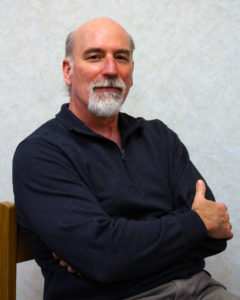 I am a writer, social critic, professional educator, and cognitive psychologist with a PhD from the University of California, Davis. My essays have appeared in Fifth Estate Magazine, Free Inquiry, and Snowy Egret. I have also been a regular contributor to Measure, Saint Joseph's College's literary magazine, and have published numerous pieces in From the Edge of the Prairie, an annual publication showcasing poets and authors in Northwest Indiana. In addition to my creative work, I have a diverse academic publication history, and have authored and coauthored a variety of articles and book chapters on topics ranging from the cognitive correlates of reading proficiency to trauma intervention. I was formerly employed as Associate Professor and Chair of Psychology at Saint Joseph's College in Northwest Indiana, where for twenty years I taught statistics, a wide variety of psychology courses, and an interdisciplinary course on human biological and cultural evolution. Originally from Spokane, I now reside in Lynnwood, Washington.
But that's the kind of thing that I am expected to say on an author website bio. Notice that there is not a lot of actual humanity in that description. Even if I  add details about my family, say, that I have a brilliant and loving wife, three outstanding children, and an amazing granddaughter who continues to remind me of how fascinating the world can be once you get beneath the clutter of the make-believe adult world of bureaucratic obligation, it would still be a description framed largely in terms of my functional roles within the machine.
I might attempt to inject some quasi-humanity by describing the various ways I attempt to cope with civilization: playing the mandolin (from Bach to bluegrass), tending a four-season organic garden, drinking copious amounts of homemade mead–and writing, of course.
But the truth is that I am merely a slave who has stumbled upon keys to a box in the master's tool shed labeled "social science." I'm not sure exactly what to do with the tools inside, but I'm starting to get some ideas…