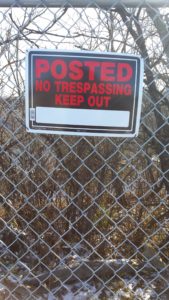 Why the "Posted" on no trespassing signs? Why tell me, on a sign saying no trespassing, that a sign was posted (this very one you are reading now, as a matter of fact) that trespassing (which is illegal by definition) is not allowed?
I can't look at a no trespassing sign without thinking about the last few stanzas of the Woody Guthrie song "This land is your land." Funny, we never made it to these stanzas in grade school when we sang this in class:
As I went walking I saw a sign there
And on the sign it said "No Trespassing."
But on the other side it didn't say nothing,
That side was made for you and me.
In the shadow of the steeple I saw my people,
By the relief office I seen my people;
As they stood there hungry, I stood there asking
Is this land made for you and me?
Nobody living can ever stop me,
As I go walking that freedom highway;
Nobody living can ever make me turn back
This land was made for you and me.